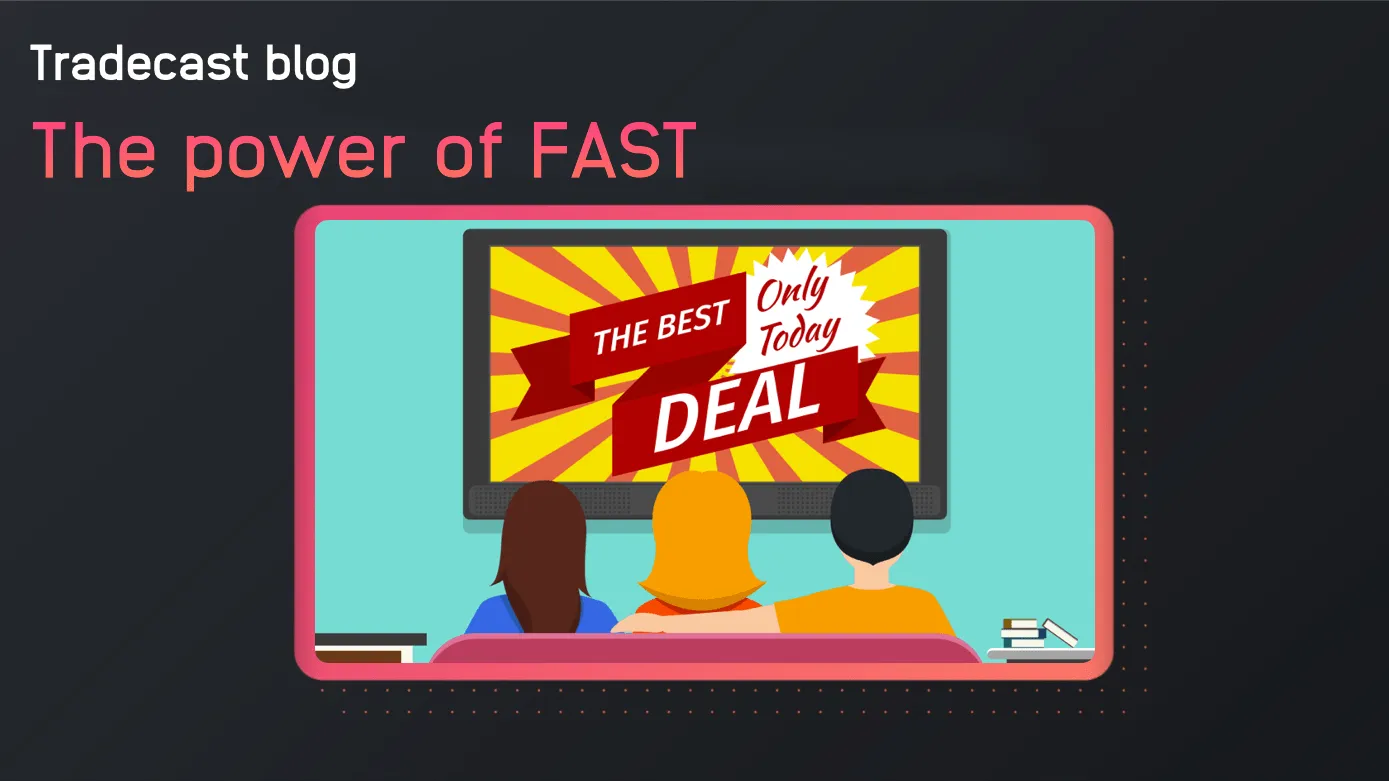 What is FAST and why should you consider a FAST OTT platform?
In the world of online video broadcasting, there's a new acronym in town: FAST. It's a term that has recently been on the rise and not for nothing. FAST is a great method of offering digital video content on a platform and in this blog post, we'll explain exactly why. What does FAST mean in the context of Over The Top (OTT) broadcasting and why should you consider introducing this content delivery method for your own video platform?
If you've already made the plunge into the world of online video broadcasting, you've no doubt come across quite a lot of acronyms. OTT, SVOD, AVOD, CTV, BVOD… this industry loves abbreviating its solutions into a few letters! But for a while now, a new acronym has been on the rise: FAST. This term is quickly (pun intended) becoming a household term in the over-the-top broadcasting sphere and for good reason: Free Ad-Supported Television – which is what FAST stands for – is more and more becoming the trend in online broadcasting.
Why should you care? And why – if you're a content owner active in online video broadcasting – should you consider using this content offering method for yourself? Let us tell you!
The worldwide television streaming industry is still undergoing unprecedented upheaval. After decades as the most popular and lucrative channel in media, linear TV is in decline as consumers flock to streaming. Linear TV watching has been decreasing for years, and that trend was accelerated by the pandemic. Linear broadcasting lost nearly ten million viewers in 2020, even as overall time spent watching linear TV increased. This meant there were fewer people watching linear TV, but those who did were watching longer, causing an increase in overall time spent.
Digital video, meanwhile, is continuing its ever-increasing ascent: consumers are projected to spend two hours and 24 minutes a day with digital video in 2022, just 33 minutes less than the time spent with linear TV. If this trend holds, streaming will inevitably eclipse linear TV in the coming years and become the biggest media channel in the world.
As streaming grows, so have the number of terms and acronyms used to describe its various iterations: CTV, OTT, SVOD, TVOD, AVOD, BVOD and – as we're focussing on now – FAST.
What does FAST mean?
FAST stands for Free Ad-Supported Television, which you can compare with AVOD; AVOD stands for 'Ad-supported Video On-Demand', so it's VOD content that is monetized with ads instead of a subscription. FAST is very similar, but instead of offering ad-supported on-demand content, the FAST model is all about is ad-supported live TV content. So, really, AVOD and FAST go for the same goal, but do this with different types of content: monetizing video inventory, while eliminating the need for costly cable subscriptions and also limiting the subscription fatigue with which audiences now inevitably need to deal with.
Which streaming services are offering FAST content?
Currently, Free Ad-Supported Television services include Pluto TV, The Roku Channel, Samsung TV Plus, among others. These are considered to be – at least right now – the fastest growing Connected TV (CTV) video distribution platforms worldwide.
Who is the FAST audience?
Audiences for FAST-based video streaming services are growing rapidly. That's because FAST platforms are being used as replacements to traditional, linear TV. FAST services are free to watch and they don't require audiences to install or setup complex hardware solutions. This has contributed to the fact that FAST platforms are seeing rapid adoption rates and also longer and longer session times. For millions of people worldwide, FAST platforms have become the first real, viable alternative to linear, pay TV. FAST offers hundreds of free-to-watch channels that are 'always on'. Also, mixing and matching content is possible, due to the fact that audiences can use multiple FAST services next to each other. According to a recent report, FAST channels in the United States of America jumped from 550 to over a thousand free-to-watch channels.
Do I need to incorporate FAST into my own video platform?
It's definitely worth considering, if you own and can offer content that attracts a niche target audience that advertisers find interesting. A huge factor in the financial success of FAST platforms has been advertisers' willingness to pay higher amounts of money for targeted advertising. A commercial on traditional linear TV garner somewhere between $10 and $25 per thousand viewer impressions (the CPM rate), where FAST – with its ad-personalization – generates $40 to $50 CPM's, according to a report by Harmonic, Inc.
Allright, how do I start my own ad-powered platform?
If you're interested in learning more about the FAST content distribution model and are interested in starting your own video platform with ad-based broadcasting capabilities, let us know. The Tradecast Video Management System (VMS) supports AVOD for on-demand video content, so with Tradecast, you can start offering ad-powered video content on your own platform in no time.
Thanks for reading!
Curious about what Tradecast can do for your content strategy?
Free demo