Meet Tradecast: the ultimate alternative to Vimeo OTT (VHX) – 2022 comparison
Thanks for stopping by! In this article, we want to introduce you to Tradecast, the ultimate alternative to Vimeo OTT (VHX). Tradecast offers tons of features for your online video distribution and monetization needs. Let us tell you all about it!
You might be a current user of Vimeo OTT or a comparable online video or OTT infrastructure provider. Or you might be considering becoming a customer at one of these providers. Whatever your situation, we want to make the case that right now – in 2022 – Tradecast is the ultimate alternative to Vimeo OTT. Sounds interesting, right? Let us tell you why Tradecast is the only OTT platform you'll ever need!
If you've been scouring the internet, trying to find an OTT platform to host your online video streaming business, you've probably come across the name Vimeo OTT (VHX). That's no surprise, since Vimeo is one of the market leaders in online video streaming and has shown countless customers that there are viable alternatives for monetizing your content outside of the big social platforms like YouTube and Facebook. Still, in 2022 there are way more OTT platforms available, including Tradecast. We think Tradecast is the ultimate alternative to Vimeo OTT (VHX) and we'd love to tell you why.
You might also currently be checking out the different alternatives to Vimeo OTT (VHX), to discover which OTT solution you can best commit yourself to for the foreseeable future. It's a big commitment, so this is an important phase and that's why knowledge is key. We know this, because we're currently servicing a number of former Vimeo OTT clients that ran into limitations across multiple fronts in using their former OTT solutions provider.
That's why Tradecast is here to help!
Meet Tradecast: the #1 Vimeo OTT (VHX) alternative
Hello there, we're Tradecast! We're a team of 30+ incredibly talented individuals with a connecting passion for online streaming. Together, we're dedicated to bringing you the #1 Vimeo OTT (VHX) alternative on the market. Our OTT platform is used by thousands of online video entrepreneurs and content creators in countries all over the world.
We're based out of The Netherlands and Los Angeles and have a fully local team, made up for over 50% by software engineers. Together, we are continuously working on improving our OTT and video streaming solution. What's more, we've built our platform ourselves, all the way, from the ground up. We've been doing this since 2014 and have always been at the forefront of technical innovation in the world of online video and OTT broadcasting.
Because all of our technology is built and maintained in-house, we're able to always focus on delivering a product that fits the needs of our customers. The online video market is changing rapidly and continuously, so we've realized that in order to stand out, we have to deliver a product that's always a fit for the times and has features and capabilities that are up-to-date and can be launched rapidly.
Curious to learn which features make Tradecast the ultimate alternative to Vimeo OTT (VHX) in 2022? Let us tell you!
Why video entrepreneurs worldwide are choosing Tradecast over Vimeo OTT (VHX)
The most important reason is a simple one: because Tradecast is way more than just a video streaming platform. It's an extensive OTT video business management toolkit, powered by the reliable and ever-evolving Tradecast Engine. Entrepreneurs use Tradecast to host their video libraries, monetize their content and easily scale up their businesses with online solutions. We're dedicated to continuously building out Tradecast to be the ultimate, easy-to-use solution for entrepreneurs who want to make the most of monetizing their video content.
We're happy when you're happy: when your video business is thriving and you're able to grow exponentially, using our tools and features. We listen to our customers and use their feedback and feature requests to expand our solutions and make Tradecast the ever-evolving, ultimate OTT video business management platform worldwide.
In short: video entrepreneurs worldwide are choosing Tradecast because we offer a reliable infrastructure and a complete toolkit to empower video monetization in the only way that matters: a future-proof way.
Now, let's focus on the most important aspects of Tradecast that make us truly stand apart from Vimeo OTT (VHX) and all other OTT platforms and online video infrastructure providers out there.

Full ownership of data, content and revenues: right out of the gate, you are and will always remain the one and only owner of all data and revenue generated by your platform, including registered user data.
Very fast to market: your Video Management System (VMS) is available in 24 to 48 hours and your web platform can be up and running in 1 to 2 weeks, depending on design preferences. Same goes for your OTT apps: they can be ready to deploy to app stores – including iOS, Android, Apple TV, Roku, Amazon Fire TV, Samsung, LG and VEWD – within 2 weeks.
Powerful content monetization tools: generate new revenue for your business with video advertisements via AVOD, content subscriptions via SVOD and single or packaged video monetization via TVOD. All included in one solution.
Fully custom website and OTT app front-end design: there's absolutely no coding needed to start utilizing your Tradecast-powered video platform. Our designers built your web platform and OTT apps according to your wishes, style guide and briefing.
Platform page building and content customization: from the Video Management System, you can create and manage as many category pages, content pages and web-based platform pages as you need.
Powerful and interactive (!) HTML 5 video player: the Tradecast Player is the only HTML 5 video player you'll ever need. Scalable, embeddable and filled to the brim with interactive features like click-and-buy shopping buttons and custom text overlays, to instantly increase conversion.
Extensive live streaming module (with live chat functionality!): discover how easy it can be to start a live broadcast on your own OTT platform with our powerful live streaming module. It includes a live chat feature, so your audience can interact with your live content as it is happening.
Secure and protected: because security is paramount at Tradecast, the VMS behind your Video Player is also very well protected. Safety features include 2-factor authentication and geoblocking.
And lastly, a couple of additional features that we're also very proud of.
1: Full ownership of data, content and revenues
As you already know, video is the most powerful way to tell your story. And therefore, it's way too important to just leave this up to others. Tradecast enables entrepreneurs to start their own OTT and video platform or to leverage the power of their own video player, to reach audiences all over the world and on any device they prefer.
The key element in expanding your business with video is control. Control over your content and assets, of course, but also control over the data those assets generate and control over the revenue models you want to utilize. This is what Tradecast stands for. All from a single, easy-to-use platform and running on the always-online and ever-expanding Tradecast Engine.
The Tradecast Video Management System – or VMS – makes video management as easy as possible, while also presenting you with a gigant toolbox filled with rich features for content management and monetization.
Whether you add one, ten or ten thousand videos to your media library, the VMS provides you with a central, secure environment that you can access anywhere. The powerful Tradecast VMS also offers you plenty of options for sharing, analyzing and enriching videos. You can easily add titles, descriptions, thumbnails and subtitles, and fetch embed codes to share your videos with the push of a button.
Data gathered by the VMS includes:
Video views
User profiles
Traffic sources
Audience retention
Viewer interests
Content sales & subscriptions
The VMS is the perfect platform to enrich the dataset that your existing website, webshop or e-commerce platform is already generating. The VMS offers relevant data from the Tradecast video player, enabling you to learn even more about the viewing, clicking and buying behaviour of your target audience, such as:
Which videos does a user watch?
Which buttons does a user click?
When does a user disengage from a certain video?
And by linking the Player to your Google Tag Manager account, you generate even more data, which is what it's all about in the end.
2: Very fast to market
While most OTT platform providers can take weeks or even months to deliver your platform, Tradecast prides itself on being able to deliver your own Video Management System in 24 to 48 hours. And while you're hitting the ground running and using the VMS to upload your content and set up your platform's categorization, our designers are building your web-based video platform, based on your branding guidelines and style guide.
Depending on your preferences, this process takes about 1 – 3 weeks. After the web-based platform is launched, we're on to the apps. These also take about a 1 – 3 week period to design and submit to the app stores. Depending on review times, your OTT apps – including iOS, Android, Apple TV, Roku, Amazon Fire TV, Samsung, LG and VEWD – can be available for download by your audience in a matter of weeks, in stead of months.
3: Powerful content monetization tools
An OTT platform powered by Tradecast gives you full commercial freedom. It's completely your own platform, so you're finally able to shut out all influence of third parties. Only you can place banners, buttons, pre-rolls and related videos in your video player. This prevents competitors from popping up in your player and stealing the attention of any potential new customer.
Speaking of commercial freedom: the Tradecast Video Player – also included in OTT platforms from the Tradecast Play and Prime licenses – offers video as an interactieve conversion tool. From the VMS, you can add call-to-action buttons to videos, with clickable buttons linked to product or landing pages (including conversion tracking!). You're also able to display relevant banners, images and QR codes at customizable times, on top of a video. Oh, and you can offer chapter selection, so users can easily navigate to the right information within a specific video.
The VMS is also the place where you can set up new revenue models with your videos.
With our AVOD feature, we can connect you to a video advertising partner, so you can add video ads at exactly the right time. And with the Tradecast Platform, you can also offer individual premium videos, premium livestreams and platform subscriptions, using the built-in TVOD and SVOD modules. With Tradecast, content monetization is finally right at your fingertips.
4: Fully custom website and OTT app front-end design
There's absolutely no coding needed if you want to launch your OTT platform with Tradecast. We'll take care of all of that, so you can focus on your platform's content and business model. Throughout the entire development process of your OTT platform, our experts are there to help you. For instance, with setting up your app store developer accounts, needed to submit your OTT apps to the stores under your own company name and marketing preferences. With the apps in the stores, Tradecast continuously updates them to make sure they'll always work, even when new firmware, devices or products that support your apps get launched.
5: Platform page building and content customization
Even if you would want to create a new content page for every day of the year, the Tradecast VMS let's you do just that. The VMS offers full freedom in creating product pages, category landing pages, content pages and articles or blogs. All from the same VMS and instantly available worldwide.
6: Powerful and interactive (!) HTML 5 video player
To make sure your own Video Player looks and feels like your video player, we'll help you to create your Player in a style that fully fits your brand. Among other things, you decide the following player elements:
Logo
Player controls
Scrub bar: colors, placing and button order
'Time remaining' slider: count down or up
Play button
Fonts
Overlays
Buttons
And with the interactive button overlay, you're able to customize your Video Player even further. For instance, you can add context-sensitive buttons to appear all throughout the video or at exactly the right time. Using these, you can direct viewers to a webshop, content page or video purchase page.
7: Extensive live streaming module (with live chat functionality!)
If it's live streaming on your own video platform you're after, look no further than Tradecast. Next to enabling you to offer your entire VOD content library on your platform, the Tradecast VMS also includes a step-by-step live streaming module. By following the on-screen instructions, you'll create a live stream in no-time. The only thing you have to connect is your RTMP live streaming signal and you're good to go. The live streaming module also allows you to schedule and announce upcoming live streams, pre-sell tickets for upcoming live streams and even offer a live chat box for viewers that are tuning in. Another great reason why Tradecast is the ultimate alternative to Vimeo OTT (VHX)!
8: Secure and protected
This should be a given for any OTT platform provider, but an important one to mention nonetheless: because security is paramount at Tradecast, the VMS behind your video player is also very well protected. By managing user accounts, you determine who has access to the VMS and to what level. With the addition of two-factor authentication, you easily add an additional layer of security to the VMS. And with DRM, your videos are extra protected. Wherever your Video Player operates, viewer data is continuously collected. And with access to the VMS, you have in-depth tools to analyze and exploit viewing and clicking behavior.
9: And a couple of additional features that we're also very proud of
Custom geoblocking profiles: decide which regions get access to which content.
Custom transcoding profiles: support for additional and professional video transcodings and aspect ratios like Cinemascope.
VMS admin management: create as many new VMS administrators as you want, including login names, passwords, content management rights and video interests.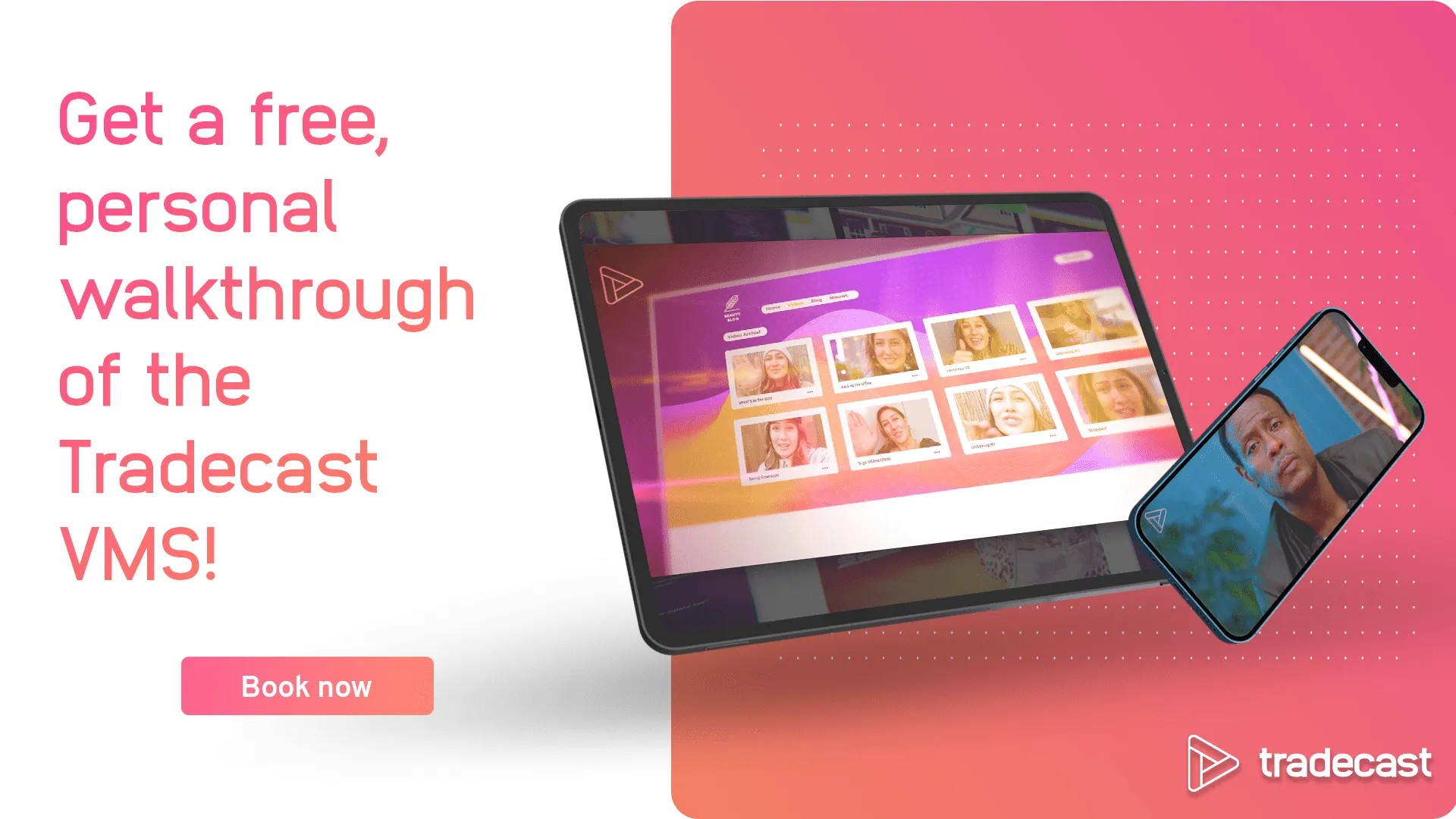 And those are all the reasons why Tradecast is the ultimate alternative to Vimeo OTT (VHX) in 2022. Enjoyed this article? If you subscribe to our newsletter 'Ready to play', you'll regularly receive insights like these from the world of OTT video streaming, right in your inbox.
For more about Tradecast's features, check out our product overview page and our knowledge platform Tradecast Learn.
And if you're interested in booking a free, one-on-one product demo from one of our OTT experts, click here to get in touch. We look forward to giving you a personalized demo of the Tradecast features that can help your organization grow using video content and OTT revenues.
Curious about what Tradecast can do for your content strategy?
Free demo