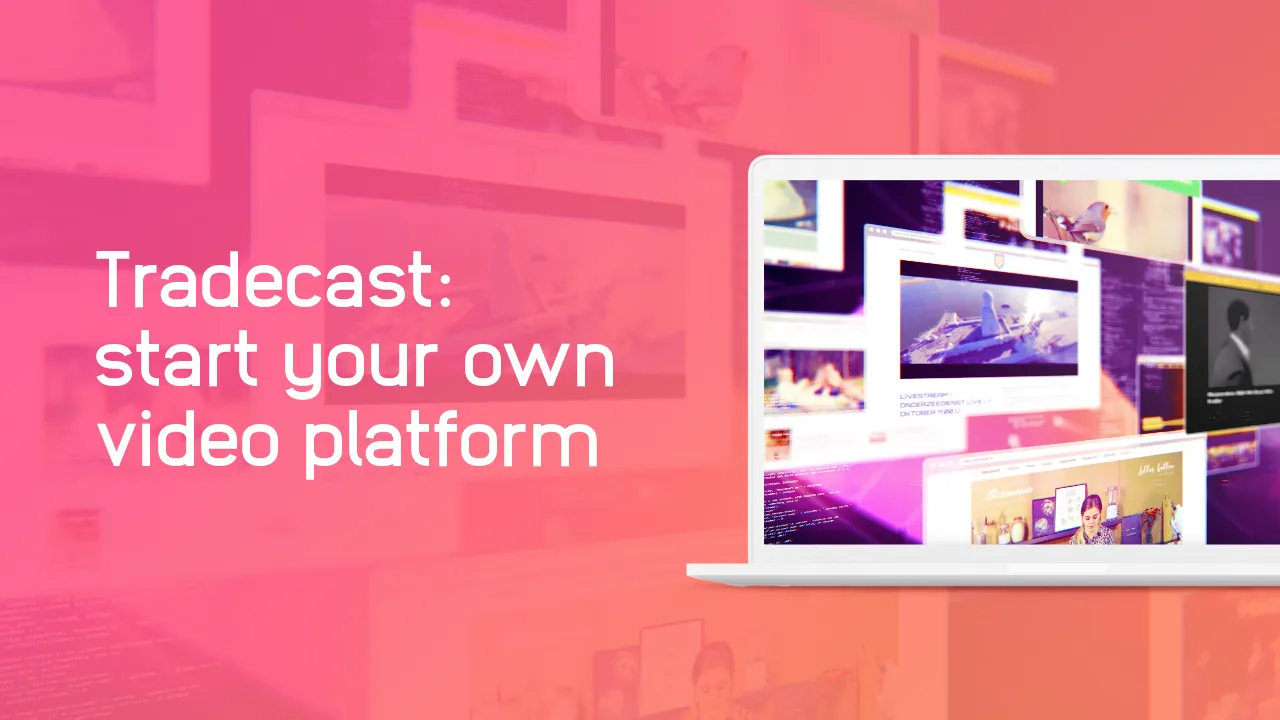 Meet Tradecast: streaming platform and agency
We are proud to introduce Tradecast: the unique combination of a complete online streaming solution and a dedicated marketing and content agency. By combining these two areas of expertise, we can answer any streaming question. Whether you want to live stream, generate new revenue from existing content, need new content to broadcast or want to increase interactivity with your target audience: Tradecast is ready to play.
Tradecast is built on the pillars 'control', 'power' and 'service'. First and foremost, we give our clients complete control over their own video platform: from design and content to data and revenue. We do this with a self-designed, powerful and infinitely scalable technology that is ready for any streaming need: live and on-demand, free and paid.
Whatever the need, with Tradecast you're never alone: the Tradecast Agency will guide you every step of the way to launching your ultimate video platform. And even after that, we're here for you. For example, to help you think about your strategy, to create content or to realise customised features.
Bert Habets, delegated commissioner: "The market for in-house video platforms is at the beginning of an enormous growth curve. Companies want to be helped by experts on the basis of a clear proposition and feature list. This is exactly what we offer with Tradecast. With this innovative video platform product and its richness of features, we are ready for the future and will take on any online video challenge with focus and confidence. We can't wait to show our new product in action."
Full control
With Tradecast, you control your content, data, users and revenue models. All from a single, easy-to-manage dashboard. From there, you broadcast all your videos on your own platform that can be viewed anywhere: as a website and as apps for iOS, Android, Apple TV, Samsung and LG, among others.
You also build up your own data: from viewer profiles to video subscriptions sold. And all data is and remains your property. Moreover, your platform will be fully customized by Tradecast Agency, our in-house marketing and content agency.
Yillmaz Schoen, founder & CEO: "The main advantage of Tradecast compared to competitors and platforms like YouTube is that you remain the owner of your content, the data, your users and your revenue models. Whether that's ads, pay-per-view, subscriptions, ticket sales or licensing activities. We saw this need for complete control arise, which is why Tradecast was created. From this completeness of capabilities, we guide a client from concept to launch in a matter of weeks and that is absolutely unique."
Unprecedented power
Behind every video platform we build is the Tradecast Engine. This technological motor is infinitely scalable and always up-to-date, with no surprises.The Engine allows you to easily set up new revenue streams, for example, by adding AVOD ad blocks to videos or by setting up TVOD and SVOD packages.
Also, thanks to the Engine, you can easily offer livestreams on your platform – free or paid, from a smartphone or control desk – and add interactive buttons to your videos, to guide viewers to a webshop, ticket page or additional information.
Tobias Ouwerkerk, Manager Technology: "What I find so special about the Tradecast product is that it gives you all the tools and features you need in one solution if you want to set up and operate your own online video platform or streaming service. From transcoding to storage and from content enrichment to distribution. All in the cloud and fully scalable, without the need for any other software. You're not going to find that convenience and richness in this complete way anywhere else but with Tradecast."
Complete support
At Tradecast, you're never alone. Together with the experts at Tradecast Agency – our in-house marketing and content agency – you'll realize your ideal video platform, from concept to launch. Need help operating your platform? Our team of local experts is happy to assist you, in Dutch or English. And to make operating your own platform as effortless as launching it, we have created Tradecast Learn: an online environment full of tutorials, help articles and inspiration.
Kjeld Ouwerkerk, Manager Commerce and Marketing: "With Tradecast, we want to be the ideal one-stop shop for everything around your online video issue: from creation and strategy development to the technology to get content to your target audience in the most effective way. That is why the Tradecast Agency was founded. Unburdening you is our top priority: we have the strategists, producers and project managers in house to help you as best as we can with custom work."
Wondering what difference an own video platform can make for your organization? Visit us and feel free to contact one of our experts.
Curious about what Tradecast can do for your content strategy?
Free demo